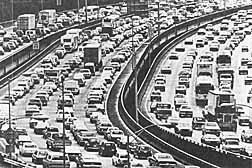 So I notice a bit of obsession with increasing traffic into my blog. Very similar to what I had when I first published jyotirlinga.com. I wonder if this is alright, good thing to have? I kinda doubt it. When we feel particularly enchanted with a task, we want to share it and spread the word I guess, thus the need to increase traffic. But when other ulterior motives drive us, wherein we are writing to drive traffic into, that is not justifiable. If I am able to stick to the topic, then it is OK. The proof is in the pudding - jyotirlinga.com gets twice the traffic in comparison to this blog, even though this blog has tags all over the map.
I do belive all this glitz - audio, video, links - is just unnecessary. Sticking to the topic simply and venting the feelings/thought processes in their raw forms is what qualifies a blog - esoteric blogs like this one in particular.
Aren't we all scared though of doing a dump of our inner most thoughts? Just gives me the shivers thinking about what that would be like.