Christina Feldman author of She who hears the cries of the world talks about compassion, and refers to both Kuan Yin and Avalokiteswara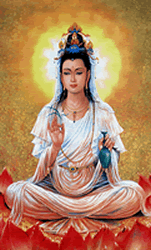 Hardened apathy versus Compassion.
Avoid seeing eye to eye, lest I have to go through it too.
Kuan Yin - She who hears the cries of the world. Goddess of Compassion
Avalokitesvara
Avalokitesvara
is a condensation of the idea of compassion or of kindliness. This function of the Bodhisattva is hidden in his name,
Avalokitesvara
. Isvara is one of the titles of
Shiva
, it means Great Lord. Avalo is a Sanskrit word meaning the One Who Looks Down. This can be interpreted as the mother who looks down at her nursing child or as one who looks down from a high place and sees the suffering of the world and the impossibility of saving everyone. Because he has vowed not to become a Buddha until everyone is saved it also means that he has no hope of ever becoming a Buddha and a tear drops from his eye. Of course this becomes the feminine Tara. These Sanskrit stories are full of a wonderfully rich tapestry of myth making.
Kuan Yin - There is still much scholarly debate regarding the origin of devotion to the female Bodhisattva Kuan Yin (also know as Quan Shi Yin and Kwan Yin). Quan means to inquire or look deeply into, Shi means the world of people, or generations, Yin means cries. The Boddhisatva of Compassion was inquiring into the suffering (cries) that has come down the generations. Kuan Yin is considered to be the feminine form of Avalokitesvara(Sanskrit), the bodhisattva of compassion of Indian Buddhism whose worship was introduced into China in the third century.

Scholars believe that the Buddhist monk and translator Kumarajiva was the first to refer to the female form of Kuan Yin in his Chinese translation of the Lotus Sutra in 406 A.D. Of the thirty-three appearances of the bodhisattva referred to in his translation, seven are female. (Devoted Chinese and Japanese Buddhists have since come to associate the number thirty-three with Kuan Yin.)


Compassion is being like the tweeter that vibrates in response....
Once we are in the path of enlightenment, compassion becomes a natural trait.