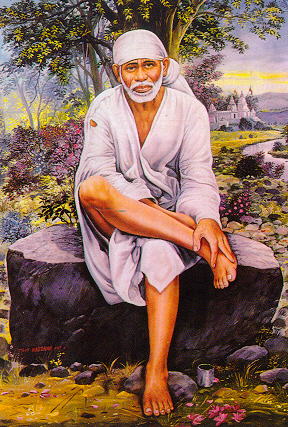 WHO IS SAI? Click
Here
Complete
Shri Sai Satcharitra Here
"Gurur Brahma Gurur Vishnu
Gurur Devoh Maheshwar;
Gurur Shakshat Parambramha
Tashmai Shri Gurur Veh Namah"
May the Merciful Sri Sai Baba always shower His grace on us and our families and remove our problems and anxieties by giving us all - strength , goodluck, success and happiness with peace of mind. (as expressed by Deepa - Sai Bhakt - gave it a new perspective to me)


Sri_Sai_Sat_Charitra_Concise (Version) To those who drink the nectar of Sai Leela's, Sai is bound to help in their liberation.
* Hari Khanoba of Bombay came to Shirdi for darshan.He used to wear costly zari pheta [Zari Turban]. After darshan he lost his new footwear.As he was sitting dejected in the wada, a boy came in the street hanging the slippers and shouting 'Hari ka beta, Zari ka pheta [Hari's son's ,Zari turban] . When Khanoba questioned him, he said Baba told him to do so and give the slippers to him who wore Zari turban and claimed himself as son of Khanoba. This surprised him because he did not tell anyone that he was the son of Hari Khanoba!