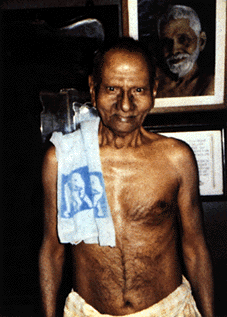 Nisargadatta Maharaj (1897-1981
I am finally getting to read his book I AM THAT.
In moments when I can step back - I try to apply what he says.
The world appears so much more beautiful.
He says that we should just BE - and I try to BE.
And find the world so much more loving for that instant.
Feels like I am on vacation - with not a care.
I think I feel a bit more alive.
My perspective changes.
I have a strange knotty feeling at the ajna chakra.
I think of death in a nice way - how liberating that would be - and how I would still be what I am right now.
He recommends stillness of mind - I try that - it works for an instant.
I think once my mind is still, my atman kicks in, the world will be just a movie.
I wish it was.
I think I will get there someday, hopefully this life.
Ramesh says that it is already decided for.
I hope it is a good outcome of this particular life.
Nisargadatta Maharaj's address:
Vanmali Bhavan,
10th Road, Khaitwadi,
Grant Road, Mumbai
www.inner-quest.org/NisargadattaSR.htm