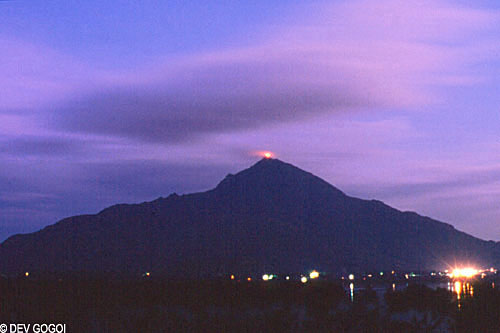 Mantra -
Om Arunachala-eswaraya Namaha
From
here
and
here
The Arunachala hill is charged with spiritual energy that spiritual benefits get magnified manifold here. Spiritual activities conducted in Arunachala are thousand times more efficacious when compared to other places.
In the tenth verse of Sri Arunachala Patikam does Sri Bhagavan actually reveals how the thought of Arunachala works in the mind to root out the ego. In this verse he sings:
I have seen a wonder, a magnetic hill that forcibly attracts the soul. Arresting the activities of the soul who thinks of it even once, drawing it to face itself, the One, making it thus motionless like itself, it feeds upon that sweet [pure and ripened] soul. What a wonder is this! O souls, be saved by thinking of this great Arunagiri, which shines in the mind as the destroyer of the soul [the ego]. Sri Bhagavan assures that the thought of Arunachala will lead the mind to the path of Self-enquiry, the 'direct path for all', as indeed happened in his own case.
The power of the name Arunachala was once directly confirmed by Sri Bhagavan. In 1948 a certain devotee came to him from Bombay, and with him he brought a notebook in which he had written the name 'Arunachala Siva' many thousands of times. On the last page of this notebook the devotee wrote a prayer to the following effect, 'O Bhagavan, in the life of Sarada Devi [the wife of Sri Ramakrishna] it is written that she has said that if even an animal dies in Kasi it will attain liberation. Therefore, graciously bestow upon be the boon of death in Kasi.' and gave the notebook to Sri Bhagavan.
Bhagavan looked through the notebook and when he came to the last page he read out loud the devotee's prayer: at once he expressed the greatest surprise and exclaimed, 'Smaranat Arunachalam!'
The words 'Smaranat Arunachalam' mean 'by remembering Arunachala', and they occur in the very same Sanskrit verse that says that by dying in Kasi one will attain liberation. Bhagavan then turned to the revolving bookcase by his side and took out a book,probably the Arunachala Mahatmyam. Opening it as if at random, he read out a sentence in Tamil that said, 'One ''Arunachala'' is equal power to one crore ''Om Nama Sivaya'''.
'Om Nama Sivaya' is believed by Saivas all over India to be the most sacred and powerful mantra. After reading out a few other portions of this book that emphasized the unique greatness and power of Arunachala, Sri Bhagavan finally laid it aside and explained to the devotee that not everyone can see Chidambaram, not everyone can be born in Tiruvarur, and not everyone can die in Kasi, but anyone and everyone can think of Arunachala from wherever they may be, and thereby they will surely attain liberation.
Whenever Sri Bhagavan asked about the special sanctity of Arunachala, he used to explain that other holy places such as Kailas, Kasi and Chidambaram are sacred because they are the abodes of Lord Siva whereas Arunachala is Lord Siva himself.(
5
)
The whole hill is sacred. It is Siva himself. Just as we identify ourselves with a body, so Siva has chosen to identify himself with his hill. Arunachala is pure wisdom (
jnana
) in the form of a hill. It is out of compassion to those who seek him that he has chosen to reveal himself in the form of a hill visible to the eye. The seeker will obtain guidance and solace by staying near this hill.
In southern India, a magnet for seekers of spirituality (Feature)
November 26th, 2008 - 11:13 am ICT by IANS -
Thiruvannamalai, Nov 26 (IANS) Not many beyond Tamil Nadu know that every full moon day, this temple town attracts over 300,000 Indian and foreign visitors who come to trek 14 km clockwise around a mountain here.That hillock is called Arunachala, literally meaning "sun mountain", made famous by Hindu saint Ramana Maharishi who made his home there.
Over 800 people from the US, Europe, Australia, Japan and other countries live in this town, 190 km south of state capital Chennai. Their quest for spirituality has brought them here.
For the last five years, the numbers have registered a steady growth.
Peter, a German who prefers to give out just his first name, lives here with his wife and two daughters. The children are kindergarten students whose second language is Tamil.
"The spiritual experience unravels and grows on us with every passing day and it cannot be explained in a few minutes. One has to live here to understand inner peace," Peter told IANS.
He and his family help visiting German compatriots with the nuances of yoga and run an eatery that sells Indian and German vegetarian cuisine.
They also help supply bit roles in movies for people from Europe in Chennai where hundreds of films are made every year in four southern Indian languages.
However, most come here because of the serenity of the Arunachala hillock where quite a few hermits practise meditation.
Houses, restaurants, hermitages and shops selling bric-a-brac surround a Shiva temple and the oddly shaped Arunachala hillock.
The place traces its origin as a bastion of spirituality to Bhagwan Ramana Maharishi who made the town and its hill his home in 1896. The fame of this holy man clad in a loin cloth attracted many foreign devotees who began writing about Thiruvannamalai and its vicinity several decades ago.
The first was Frank Humphreys, a British cop who began writing about this town and its godman in 1911. The first of this series appeared in The International Psychic Gazette.
The next was Paul Brunton, a British philosopher who found spiritual bliss at the feet of Ramana, in 1931.
Wrote Brunton: "I find myself outside the rim of world consciousness. The planet which has so far harboured me disappears. I am in the midst of an ocean of blazing light. The latter, I feel rather than think, is the primeval stuff out of which worlds are created, the first state of matter. It stretches away into untellable infinite space, incredibly alive."
Soon other internationally recognised writers like Somerset Maugham, Julian P. Johnson and Arthur Osborne followed. Maugham's novel "The Razor's Edge" (1944) described a fictional guru fashioned after Ramana Maharishi.
In more recent times, the serenity of Arunachala has attracted film personalities like Tamil music maestro Ilayaraja and thespian Rajnikant who regularly trek around the hill, many times in disguise to avoid being mobbed.
Their link to this town in turn has attracted droves of devotees most of whom come for monthly pilgrimages.
One of the devotees is Swami Devananda, a Canadian by birth and a practising Hindu since 1967.
"Christian missionaries spread a canard and create history around it with more lies. While I still expose these perfidies, I am here to find out the real meaning of divinity," Devananda said.
Said Peter: "The real reason for the fame of this place is the hermitage of Ramana. In a nutshell that is the unique selling points of Thiruvannamalai where many seek spiritual answers."
Even Tibetan Budhist spiritual leader the Dalai Lama has written about this place.
"The heritage of India is enriched with numerous saints and yogis. Ramana Maharishi represents that tradition and his spiritual greatness is guiding millions of people. Such masters light the path and bring solace to suffering humanity," the Dalai Lama has been quoted as saying.